Honeywell Evohome – Our Expert Opinion
Post By admin

0 Comment

Honeywell Evohome – According to reports in 2014, over 70% of the Irish population had a smart phone. And if you are an adult under 25 years of age 97% of the Irish population have a smart phone. These are the kind of phones that have Apps on them, Apps that can in fact control your heating system. And maybe in the future they may have the Honeywell Evohome App downloaded. It's becoming standard for modern homes and apartments to have a remote central heating system for all new builds. So, you want to retro fit your house or apartment with one of these Central Heating Controls, in this blog post we will take an in-depth look at the Honeywell Evohome App and Central Heating Control System.
Honeywell Evohome – The Definition
According to the Honeywell website:
'evohome means you're always in charge of your home heating & stored hot water – wherever you are. At its heart is the evohome controller, your simple to use control panel that lets you set the temperature in every room in your home – from anywhere in your home.'
Honeywell Evohome – The Pros
You are buying from a world class brand and that equates to reliability, supreme quality, longer product life and a first class customer service experience. With that in mind, you will pay a pretty penny! A bit like buying a BMW, upfront cost quite high but pays off in the long term with a great resell value! The financial investment will pay off eventually and you will also have these instant benefits:
Instant Control of your heating System
Remote access to your heating system
A more efficient Heating System, Less Waste
Better for the environment and in the longer term great savings.
A Greater Level of Comfort.
We have embedded a number of videos into this blog which we believe will educate your decision.
What is Zoning in relation to a Heating System?
What are Heating Controls?
The Future of Smart Controls
And remember, we are a nationwide service providers for everything related to heating systems, boilers and plumbing services. So, give us a call on 01-5397223, complete our online Honeywell Evohome Appointment Form or email us at, info@BoilerReplacement.ie – remember we are nationwide.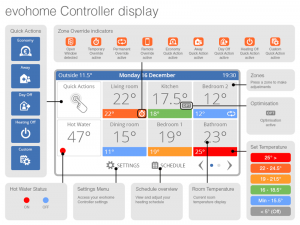 Comments are closed.